• Created by Kayla Cole • Step by Step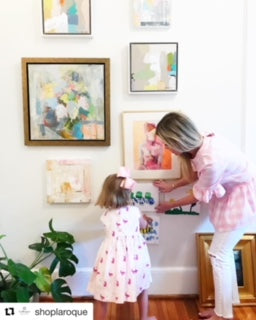 Working in the art business has taught us one definite thing: Art can be displayed in more than one way and look phenomenal. Gallery walls are one way to display multiple pieces of art in an organized fashion. We recently put up a gallery wall in a local Columbia shop and it turned out exactly how we envisioned- Organized and Stunning. 
If you are new to our blog or new to the art world, you most likely haven't formulated a gallery wall before. We pulled together the best tips we have for creating the flawless gallery wall and hope to inspire you to create an art collaboration in your very own home.
---
• Created by Kayla Cole • Step by Step
The fun part about decorating your home is finding the perfect piece of art. The part that doesn't really get attention in the magazines and museums is the framing of the art you found. Framing is important but can be overwhelming if you're not sure what you're looking for.  Usually we hear the same questions when it comes to framing: What size frame should I use? Should I frame with wood or metal, black or white? What is a mat? Do I need a mat? Is there anyone who can do this for me? All of those questions are EXACTLY why...